Most companies like yours dread when their prospects, or even worse their existing customers, issue a Request for Proposal (RFP) for goods, products, or services. It usually means that it's going to be a highly competitive sales climate, or that your client must go through the formality due to the nature of their business.
Either way, if you are responsible for the RFP responses in your organization, or the results of those responses, competing and winning through an RFP process has a huge set of challenges!
Most companies like you have a core RFP response team, but use a database of "canned" answers to simply cut and paste into responses without taking time to tailor to the needs of your prospects…
… Many organizations have used 3rd party providers to supplement the core team, yet responses tend to be focus on the technical aspects of your solutions versus storytelling…
… Leaving organizations like yours struggling to truly differentiate yourself in this highly competitive market place
In over 30 years of working with sales organizations, we've found that how you tell your story in an RFP response or finalist presentation is one of the most critical factors in winning business, both new and existing. We've identified nine distinct drivers of success for RFP responses, finalist presentations and readiness that truly allow you to separate yourself from your competition.

Start Here: Core Elements: If your win rate or invitation to finalist meetings is below 15%, then you should probably focus on the core elements of your RFP response:
Integrity & Completion: Nothing can get you disqualified from an RFP faster than having an incomplete response. It may seem simple, but too often we see answers that don't address all elements of an RFP question. Make sure you've answered everything completely.
Structure: Cut and paste answers stick out like a sore thumb, especially when the answers don't follow the flow of the original question. If a prospect asks about A, B and C – then answer A, B and C.
One Voice: Detailed responses usually require the help of multiple subject matter experts in your organization as well as many different voices telling your story. Make sure your response feels cohesive in style, message, win themes and voice.
Differentiation: Try the "white label test" on our RFP response. If you were to remove your company's name, could you just as easily place your competitor's name in the response and it still be accurate? Ensure you have your own clearly defined and truly differentiated win themes throughout your response.

Take A Look At This: Bring it to Life: If your getting a few hits, but are being told that your responses seem "copy and paste," focus on:
Proof Points: Just saying your good at something isn't enough. You must pull through real-time statistics, success stories and quantitative evidence to bring your story to life.
Story Telling: Many responses are overly technical and tout features of your solution. The best responses tell a story about how your solutions solve your prospects needs or pain points.
Tailor to the Client: Ever heard of "corporate jargon?" Are you guilty of using your own language and acronyms in your responses? By simply using the words that your prospect uses in their RFP, you can immediately gain points and keep your decision maker reading.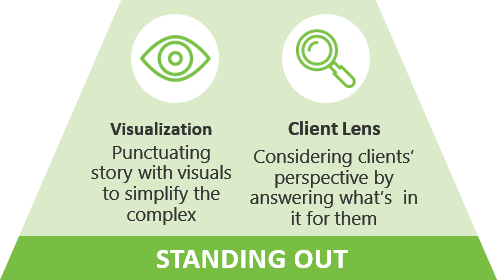 Finally: Standing Out: And if you want to be a notch above your competitors, focus on:
Visualization: Most responses incorporate a mixed bag of tables, reports and overly complex, mix-matched graphics that don't help the story at all. The best responses use clean, consistent, and simple graphics and visual queues to help readers get through complex and lengthy responses more efficiently with greater understanding.
Client Lens: Do all your paragraphs or sentences begin with your company's name? What about your table of contents? Try turning your narrative around to talk about your client first, recognizing their needs and pain points and how partnering with you can alleviate those issues.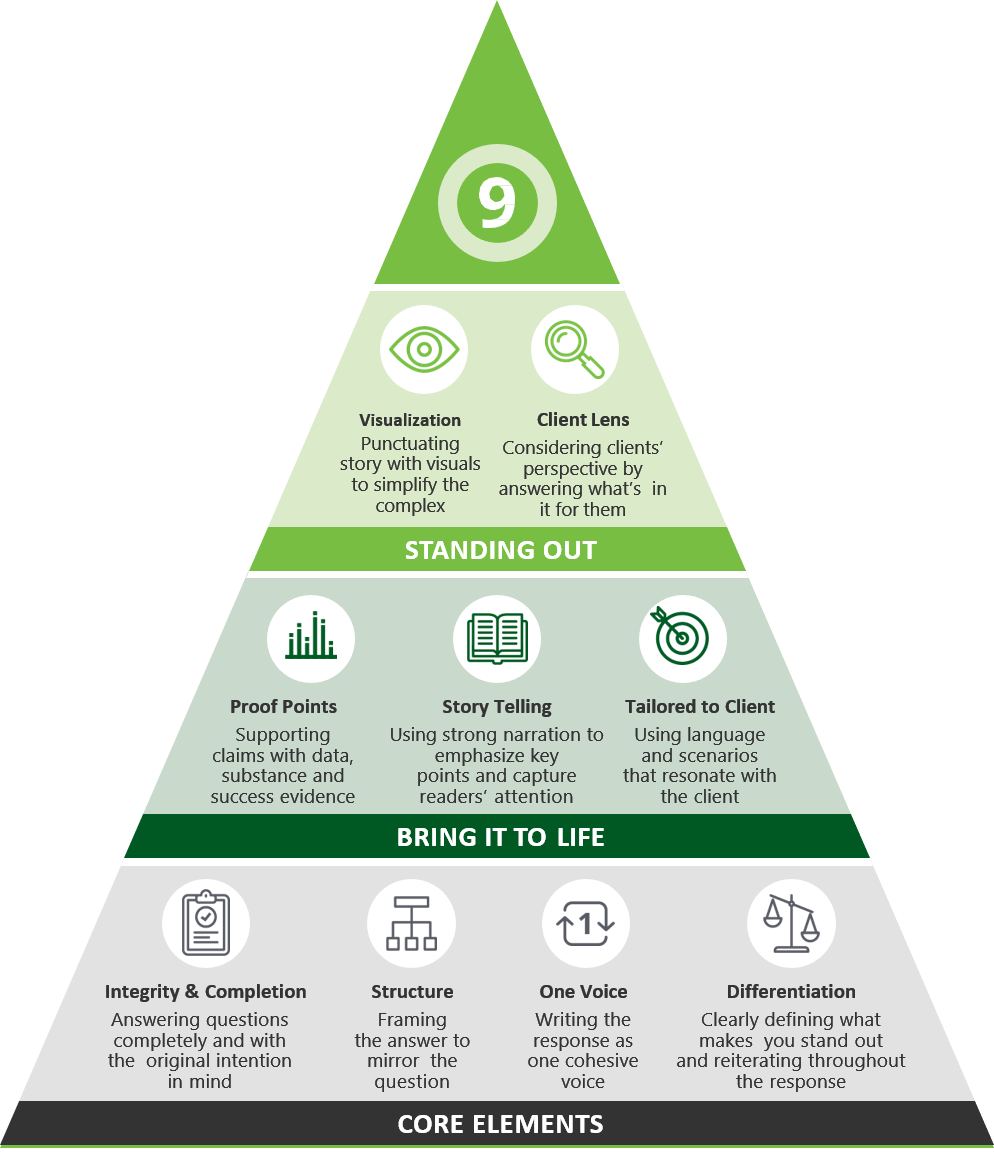 You'll find that some of these keys are easy to employ immediately and others may take a little more heavy lifting. It all depends on where you are in your RFP response journey and where you want to be. In the subsequent articles in this series, we will dissect each of these keys and share some best practices we've observed.